The Boys Winter Volleyball Championship 2024
presented by First Point
**January 13,14,15, 2024 at McCormick Place in Chicago**

We hope to see you there!!!!

Special notice: The weekend of the BWVC 2024 is developing quickly. Top men's collegiate competition is coming to Chicago on the campuses of Lewis Univ. and Loyola Univ. of the MIVA versus UCLA and BYU of the MPSF. The matches will be played Thursday and Saturday evening!! See below!

These collegiate programs and First Point Foundation will hold a Boys VB clinic on Friday 1/12-6 pm to 8 pm. See below!
Enjoy the competition and these extra activities as part of the BWVC weekend!! More information to follow.

BWVC Registration is open on AES. We are offering Boys 12s as a 2 day event-6 registered teams will be needed to host this division. We are hoping it goes!
https://www.advancedeventsystems.com/events/33654
BJNC Bids 2024 TBA
Open Divisions: 14s (), 15s (), 16s (), 17s (), 18s () (Bids)
USA Divisions: 14s () 15s (), 16s (), 17s (), 18s () (Bids)
Club Divisions Offered: 12s, 14/13, 15/16, 18/17 (No Bids)
Important Notice for Teams

In order to receive emails from the BWVC, update your "opt out" preference, which
can be done within the My Info section of AES.
- login to AES
- click on your name in the top right, then My Info
- change notification setting at the bottom to accept email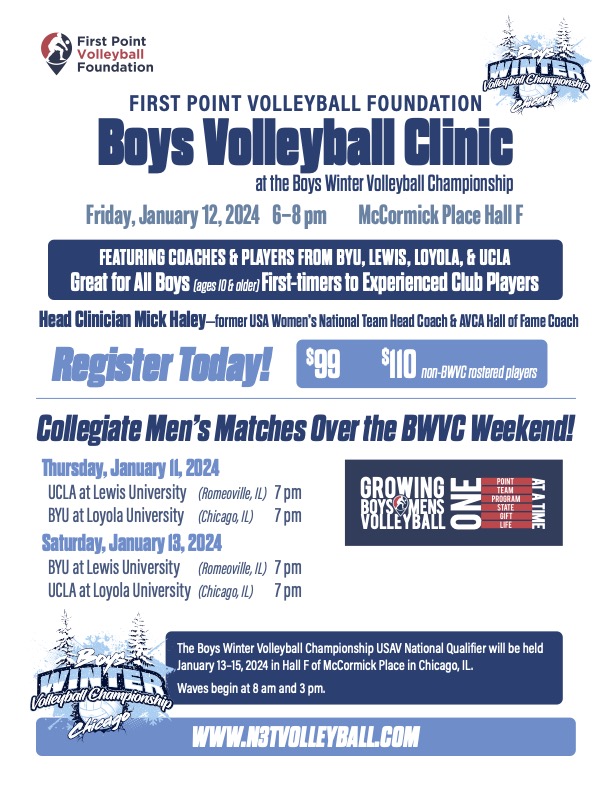 Featuring:
Mick Haley, Former Head Coach USA Womens National Team

John Speraw, Head Coach UCLA Men's and USA Men's National Team
John Hawks, Head Coach Loyola University Chicago

Dan Friend, Head Coach Lewis University
Shawn Olmstead, Head Coach Brigham Young University

Plus the Staff and Players of each university

Registration is on Ticket Spice beginning Oct 23.
The link is:
https://n3tvolleyball.ticketspice.com/first-point-boys-volleyball-clinic-at-the-bwvc
Enjoy!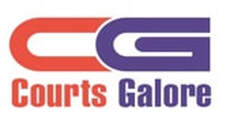 Courts Galore is the Court provider of the BWVC 24.